NCVLI and the victims' rights movement

Voices for Justice is NCVLI's annual fundraiser, which celebrates survivors of crime and the people who fight for their rights from attorneys and advocates to volunteers and community partners.
2023 Voices for Justice is Scheduled for February 2024!
Stay tuned for more event details.
Voices For Justice Awards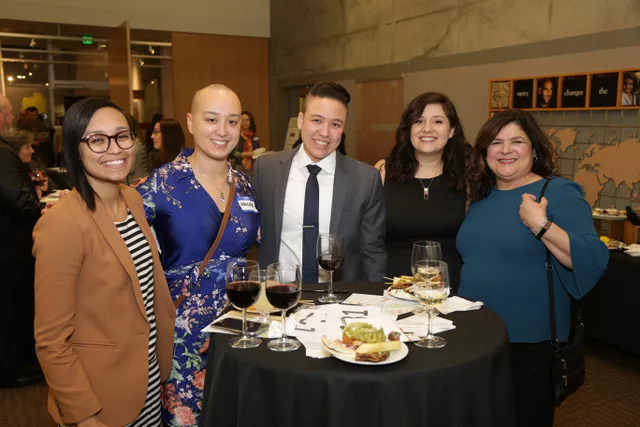 During past Voices for Justice events, the Voice for Justice Award has recognized Oregon-based attorneys, advocates, allied professionals, and organizations that have made outstanding contributions to ensuring that our justice system honors victims' voices. Click here to learn about the awards and how to nominate an individual, organization or team for a 2022 Voice for Justice Award. To fill at the online nomination form, click here.   
2022 Voice for Justice Award Honorees
The 2022 Victims' Rights Partnership Voice for Justice Award recipient was Rana Alexander, which recognizes the collaborative efforts of individuals and/or organizations that have devoted their time to advancing crime victims' rights in partnership with others. The focus of the award is on those collaborative efforts.
The 2022 Gail Burns-Smith Excellence in Victim Services Award recipient was Alexandra Nica, which recognizes outstanding efforts of an advocate or allied professional in elevating the rights and voices of crime victims, and shedding light on often hidden issues related to victimization and healing.
2021 Voice for Justice Honorees
Outstanding Achievement Awards
Thank you to everyone who submitted nominations for the 2021 Outstanding Achievement Awards!
Legal Advocacy Award
Colleen Clase and Elizabeth Well
Gail Burns-Smith Excellence in Victim Services Award
Helen O'Brien
2020 Voice for Justice Award Honorees
The 2020 Voice for Justice Awards honored many victim advocates, attorneys, allied professionsals and organizations.
Alicia Manning
Andrea Constand
Brooks Douglass
Children's Advocacy Centers of California
Justice for Homicide Victims
Kathy Hessler
LaWanda Hawkins
Patricia Wenskunas
Veran Griffin-Tabor
Bernita Walker
2019 Voice for Justice Award Honoree
The 2019 Voice for Justice was Marandas Sinlapasai, P.C. which represents clients regarding general immigration law matters including humanitarian relief, victims' rights, visas, citizenship issues, family base immigration, consular processing, deportation defense and appeals. The firm's attorneys focus on individuals who are survivors of domestic violence, serious crime, and human trafficking assisting and children who have been abused, abandoned and neglected.
The firm works in collaborative model of community lawyering, education, relationship building for those who may not understand the complexities of the mix status of individuals living in the United States. Often you will see the team working with federal, state, and local law enforcement agencies, foreign consulates, victims' rights advocates and the community to assist survivors of crime and to protect their victims' rights through the criminal, civil, and immigration systems.
2018 Voice for Justice Award Honoree
The 2018 Voice for Justice is Jackie Sandmeyer. As the Campus Coordinator with the Oregon Sexual Assault Task Force, they work with Oregon colleges and universities across the state and nationally, both public and private, to identify best practices and provide technical assistance and training to create safe spaces and advocate for trauma informed policies on campuses across Oregon. Their work with survivors has focused on college campuses, communities of color, and the LGBTQI community, with an emphasis on Transgender support services. As the Campus Coordinator, it's these passions that motivate Jackie's work with students and administrators.
2017 Voice for Justice Award Honorees
In 2017, we honored two individuals with the Voice for Justice Award. Oregon State Senator Sara Gelser, who represents the 8th District, has been instrumental in passing groundbreaking legislation expanding the statute of limitations for sexual assault and prioritizing rape kit testing.  These laws increase victims' access to justice and decrease the likelihood of repeat sexual assault offenders.
Gloria Needham is Director of the Hood River County Victims' Assistance Program.  She has assisted survivors of domestic and sexual abuse for over 25 years, which has included work at a shelter and 18 years with the Hood River County Victim Services Program. Gloria is a founding member of several victim focused organizations and projects. Gloria's willingness to go above and beyond her job duties and her love of helping people is evident to everyone she works with, both survivors and coworkers.
2016 Voice for Justice Award Honoree
The 2016 Voice for Justice was Denise Pena. Denise is the Community Justice Manager of the Crime Victims Services Unit within Multnomah County's Department of Community Justice. We were honored to recognize Denise for her outstanding efforts at ensuring that victims' voices are heard and promoting systemic change to improve justice for all victims. 
2015 Voice for Justice Award Honoree
The Inaugural Voice for Justice Award recipient was the Oregon Crime Victim Law Clinic. Founded in 2009 to meet the need for attorneys and advocates to educate victims about their rights in criminal proceedings and to assist them in seeking enforcement of those rights, OCVLC has served nearly 600 crime victims throughout Oregon.