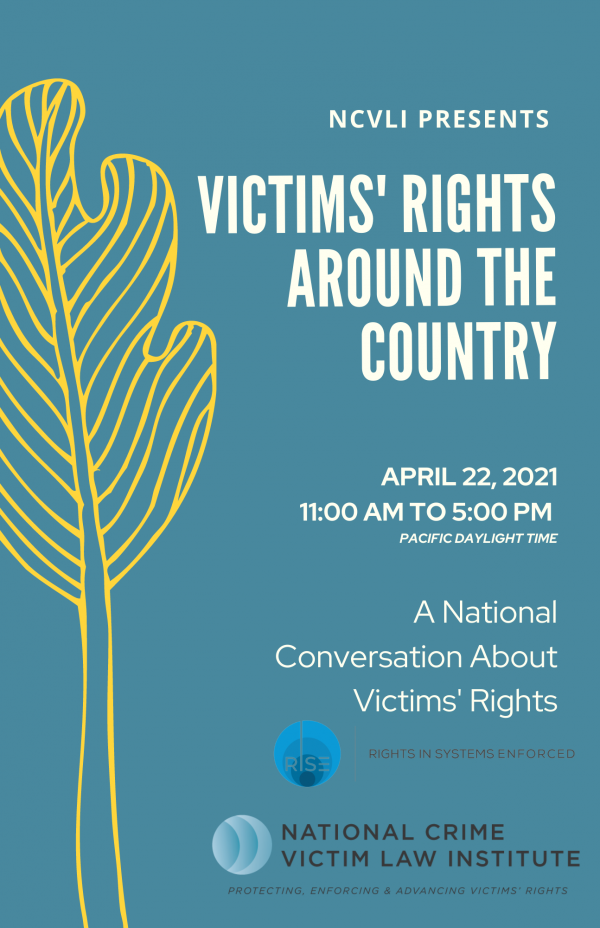 Join NCVLI for a day of discussing victims' rights around the country. This event will be presented in partnership with victims' rights practitioners nationwide, with the following schedule:
*All times below are provided using Pacific Daylight Time; please register for each session you plan on attending*
10:45 – 11:00 AM (Pacific): Welcome & Overview of State Victims' Rights Litigation
11:00 AM – 12:00 PM (Pacific): Beyond the Courtroom: Advocating for Sexual Assault Survivors
Sexual assault is historically underreported to law enforcement, and of the few cases that are reported, even fewer result in a conviction. While Illinois' victims' rights laws allow for victim status pre-charging, sexual assault survivors face unique obstacles at the pre-charge phase of a case. The Chicago Alliance Against Sexual Exploitation will present on how they have addressed these issues by fighting for survivors in innovative ways, reaching beyond the courtroom to overturn systemic problems and create change in individual cases and for survivors going forward.
Presenters: Kaethe Morris Hoffer, CAASE; Elizabeth Payne, CAASE and Terry Campos, NCVLI
12:15 – 1:15 PM (Pacific): Beyond the Trial Court: Victims' Rights Advocacy in Appellate Courts
As more victims come to know their rights and more attorneys stand ready to help them assert and seek enforcement of those rights, trial courts nationwide are becoming more familiar with victim law. That familiarity does not always mean they get it right, however. So what happens when a victim's right is denied in the trial court? And what if the trial court gets it right but one of the parties later challenges that decision? Understanding the available avenues of appellate relief is a critical component of victims' rights practice. In this session, presenters will discuss how victims' rights practitioners can access appellate courts to protect victims' rights. The session will be grounded in Ohio law but the lessons are those that can inform appellate practice nationwide.
Presenters: Elizabeth Well, OCVJC; Chris Woeste, OCVJC and Meg Garvin, NCVLI
1:30 – 2:30 PM (Pacific): From Denial of Victim Status to Challenging State Supreme Court Precedent: An Arizona Case Study
Arizona's Victims' Bill of Rights, the constitutional amendment that grants crime victims procedural and substantive rights, will celebrate its 31 anniversary this year. Despite this lengthy history, ensuring victims' rights are afforded continues to be a challenge in many cases. Using a case study, we will examine one victim and her attorneys' efforts to secure enforcement of the victim's rights—resulting in case law that clarifies who is a victim, whether a victim's attorney may sit in the well of the courtroom, and whether the right to restitution can be capped.
Presenters: Colleen Clase, AVCV and Amy Liu, NCVLI
2:45 – 3:45 PM (Pacific): Securing Constitutional Victims' Rights for Crime Victims
The California Victims' Bill of Rights, also known as Marsy's Law, was enacted in California in 2008. More than a decade after it became law, many victims are still not informed of their rights. Join us as we discuss best practices for requesting these rights, the importance of being a proactive participant in the criminal justice system, and how we need to work collectively to ensure that these rights are a reality for crime victims. The training will also highlight the right to restitution. Attendees will learn what types of expenses can be included as part of restitution, when you can request restitution, what to do if it is not ordered, and how a victim can collect restitution once it is ordered.
Presenters: Mariam El-menshawi, VCRC, and Amy Liu, NCVLI
4:00 – 5:00 PM (Pacific): Realizing the Right to Restitution
This Q&A-style discussion will include an overview of victims' right to restitution, focusing on laws in Oregon and an analysis of recent restitution-related case law. Practical tips for working with victims and prosecutors seeking to assert the right to restitution will be shared, including filing restitution memoranda in connection with criminal cases.
Presenters: Rebecca S.T. Khalil, NCVLI and Rosemary Brewer, OCVLC
For more information about sessions and presenters, click here.
Tickets for each session close at 9:00 AM (Pacific) on April 21, 2021.
CLE Accreditation:
NCVLI is submitting an application for CLE credits for all sessions with Arizona, California, Colorado, Illinois, Ohio, and Oregon. With regard to California, NCVLI is an approved CA multiple activity provider. These trainings may be eligible for CLE credit in other states. A certificate of attendance will be available after the program.
These trainings are supported by Grant Nos. 2018-V3-GX-K018 and 2020-V3-GX-K022, awarded by the Office for Victims of Crime, Office of Justice Programs, U.S. Department of Justice. The opinions, findings, conclusions or recommendations expressed are those of the presenter(s) and do not necessarily represent the official position or policies of the U.S. Department of Justice.